Remote Desktop Connection Manager est un gestionnaire de connexion de bureau à distance (RDCMan) il permet de regrouper dans une même interface plusieurs connexions RDP et ainsi faciliter le passage d'un environnement à un autre tout en limitant l'encombrement sur le bureau principal.
Depuis Novembre 2014 une nouvelle version du gestionnaire est disponible :
Remote Desktop Connection Manager 2.7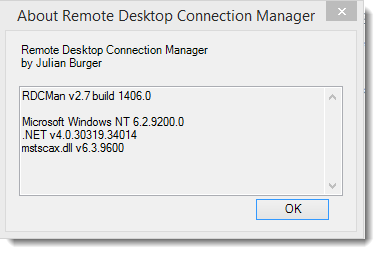 RDCMan 2.7 est disponible pour Windows 8, 8.1, Server 2012 et 2012 R2.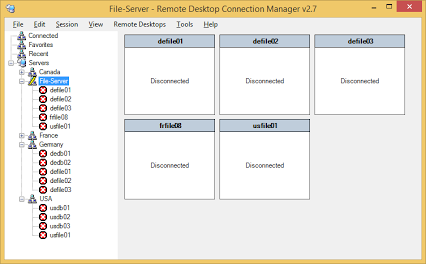 Cette nouvelle version apporte les nouveautés suivantes :
Virtual machine connect-to-console support
Client size options come from the application config file (RDCMan.exe.config) rather than being hard-coded.
View.Client size.Custom menu item shows the current size
View.Client size => From remote desktop size
Option to hide the main menu until Alt is pressed. Hover over the window title also shows the menu.
Added Smart groups
Support for credential encryption with certificates
Better handling of read-only files
Added recently used servers virtual group
New implementation of thumbnail view for more predictable navigation
Thumbnail view remembers scroll position when changing groups, etc.
Performance improvements when loading large files
Allow scale-to-fit for docked servers (Display Settings.Scale docked remote desktop to fit window)
Allow scale-to-fit for undocked servers (Display Settings.Scale undocked remote desktop to fit window)
« Source » for inheritance in properties dialog is now a button to open the properties for the source node.
Focus release pop up => changed to buttons, added minimize option.
Added command-line « /noconnect » option to disable startup "reconnect servers" dialog
Session menu items to send keys to the remote session, e.g. Ctrl+Alt+Del
Session menu items to send actions to the remote session, e.g. display charms
Domain= »[display] » means use the display name for the domain name.
Pour ma part j'attendais avec impatience de pouvoir me connecter à des clusters HDinsight et d'accéder aux différents nœuds de celui-ci sans avoir à créer une connexion de bureau à distance depuis le nœud principal ! (Création d'une RDP dans une RDP …).
Voici comment se connecter en RDP a un cluster HDInsight et a ses différents nœuds
Après avoir créé un cluster HDInsight 'RDCMan' de 2 nœuds et d'avoir autorisé l'accès distant à celui ci :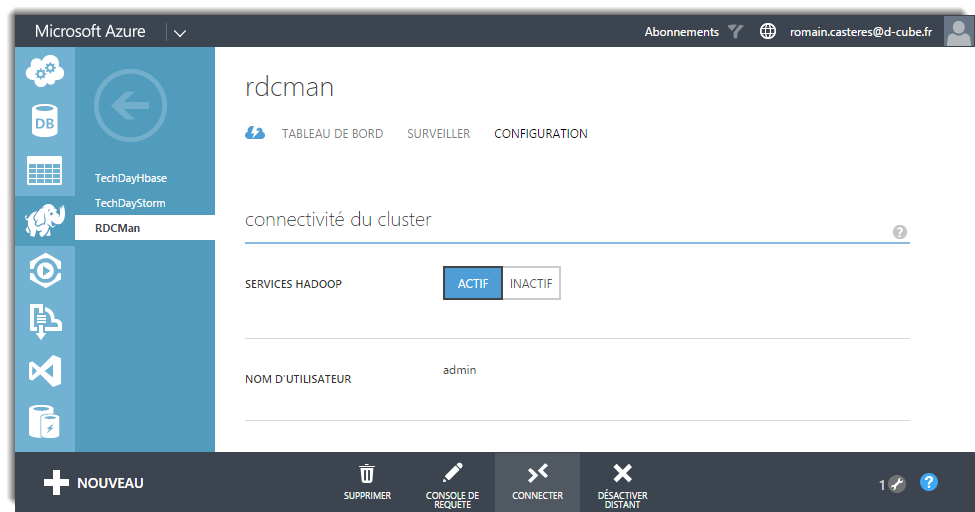 Ajouter un nouveau serveur et renseigner l'adresse du cluster :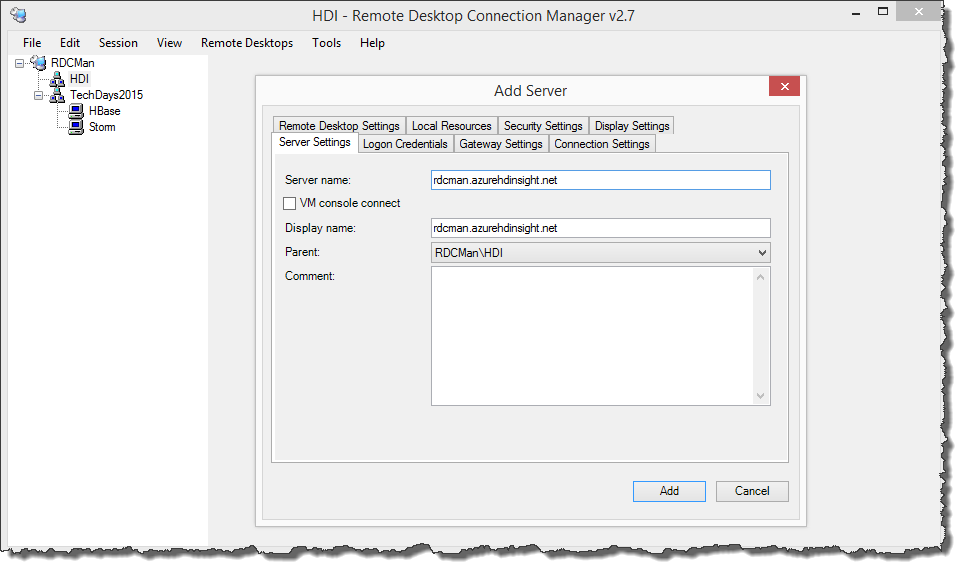 Renseigner le login et son mot de passe (supprimer le domaine pré-rempli) :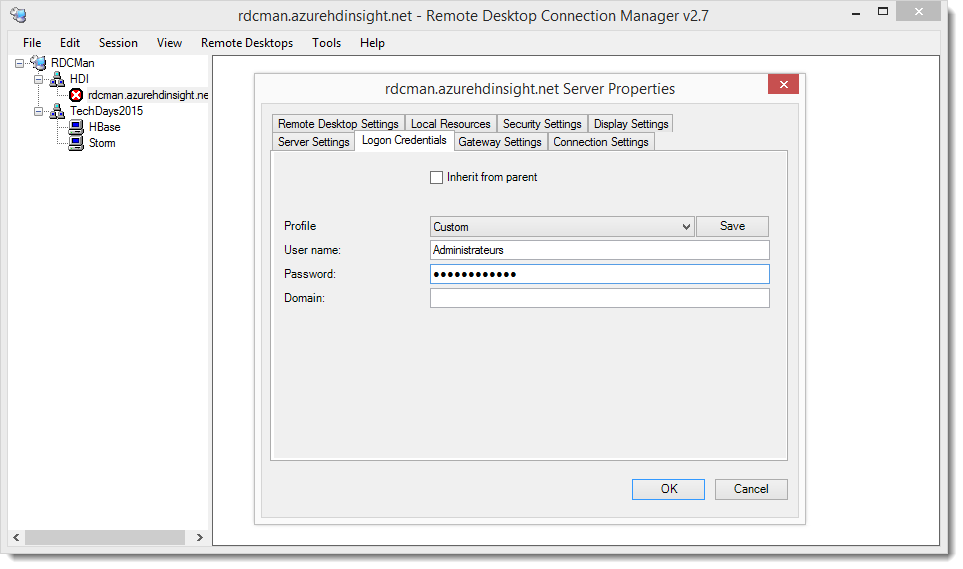 La dernière étape est la moins évidente !
Afin de vous connecter au nœud principal, voici ce qu'il faut renseigner dans l'onglet « Connexion Settings :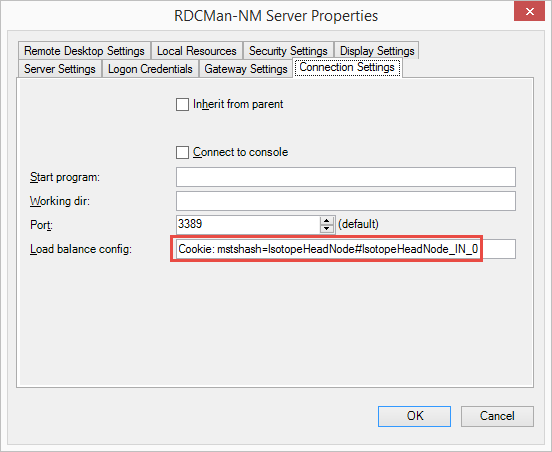 Voici les différents settings
Connexion au nœud principal (Name Node) :

Cookie: mstshash=IsotopeHeadNode#IsotopeHeadNode_IN_0

Connexion au premier noeud de travail (Worker Node 0) :

Cookie: mstshash=IsotopeHeadNode#IsotopeWorkerNode_IN_0

Connexion au premier noeud de travail (Worker Node 1) :

Cookie: mstshash=IsotopeHeadNode#IsotopeWorkerNode_IN_1
Et voici le résultat 🙂